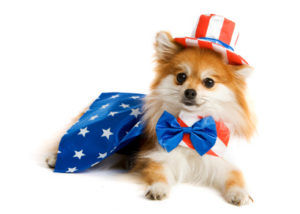 Independence Day is a day of partying, barbecues and good times with family and friends. But for your pets, the July 4th festivities can be both stressful and dangerous. Here are a few things to keep in mind to keep your pet safe and help them avoid the stress.
Keep away from fireworks and sparklers. Fireworks intended for home use are dangerous for pets (and people too). The loud noises often scare pets and many will try to run to remove themselves from the stressful situation. Make sure your yard is secure. Sparklers, while not loud, may spark curiosity. Keep them away from your pets as they are extremely hot.
Be prepared in the event your pet does get loose and runs. The days around July 4th are among the busiest days at animal shelters. Make sure your pet is wearing an up to date ID tag. Microchipping is always a great idea for pets. You may want to consider this for your pet. If you do have your pets' microchipped make sure all of the information is up to date. Finally, take an updated photo of your pet. It's always a good idea to have a recent photo on hand just in case your pet ever disappears.
Nothing says 4th of July more than a good fireworks show. While fun for us they are a horror show for most dogs. Please don't bring your dog to fireworks displays.
If you live in an area where there is a fireworks show nearby you may want to consider some of these ideas to help your dog remain calm. Give your dog a frozen treat or treat ball. Some dogs merely need to have their attention diverted a bit. A frozen treat will prolong the activity and keep your dog's mind occupied.If your dog is a bit more sensitive, try closing the windows, curtains and blinds. Playing soothing music can also help your dog relax. You may want to keep your dog in an escape-proof room or crate.
There are a few products that may help alleviate stress for your pets. Thundershirts are shirts that dogs can wear and help calm the dog by providing compression. There are also calming treats and calming sprays that have been effective on some pets as well as pheromone systems. Stop in one of our stores and we would be more than happy to discuss these items in more detail.